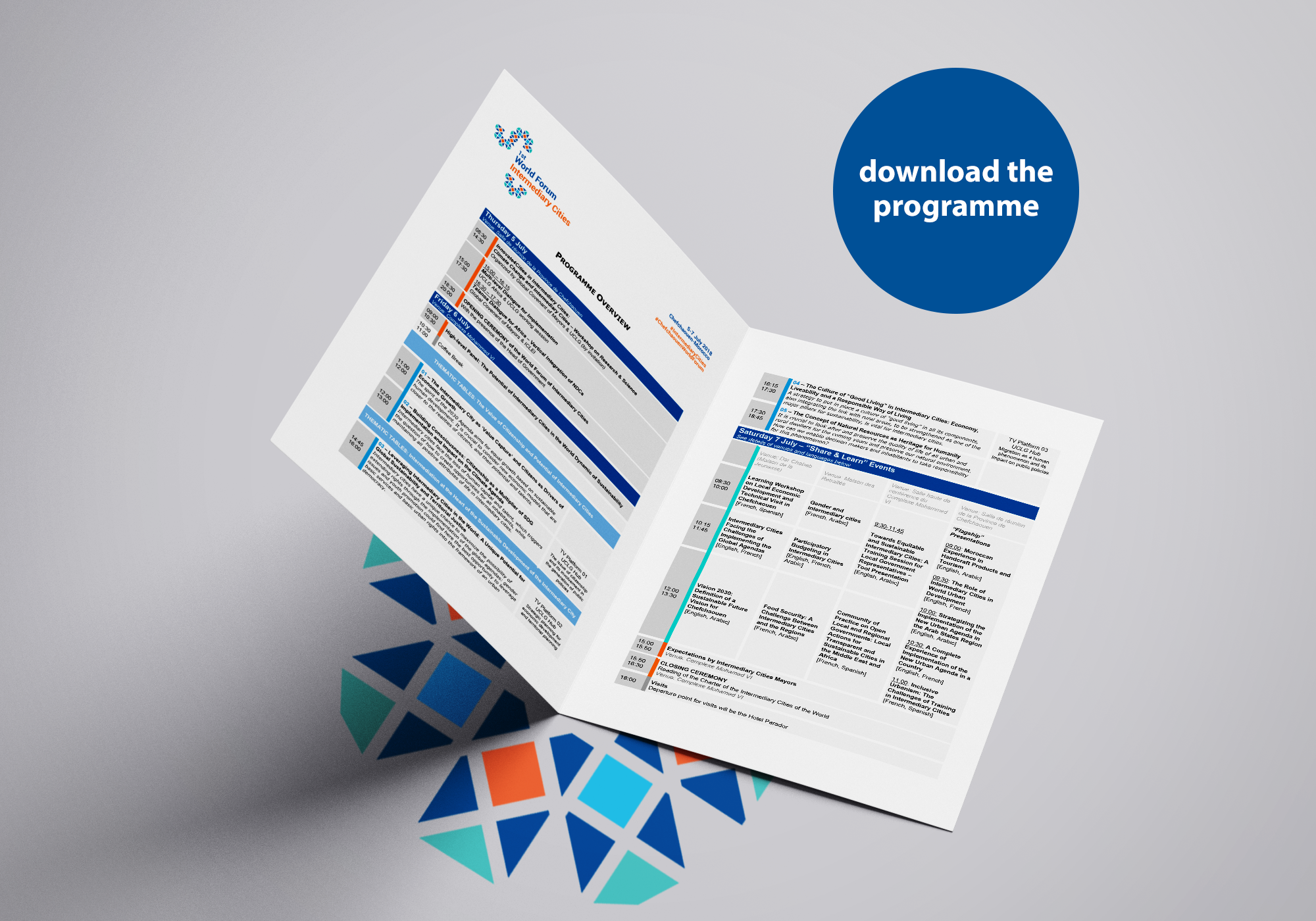 Thursday 5 July

Venue: Salle de réunion de la Province de Chefchaouen

08:30

14:30

Innovate4Cities in Intermediary Cities:

Climate Change and Intermediary Cities – Workshop on Research & Science

Organized by Global Covenant of Mayors & UCLG (by invitation)

15:00

17:30

15:00 – 16:15

Multi-level Dialogue for Implementation

UCLG Africa & UCLG working session

 

16:30 – 17:30

Talanoa Dialogue for Africa – Vertical Integration of NDCs

Global Covenant of Mayors & ICLEI

18:30

20:00

OPENING CEREMONY of the World Forum of Intermediary Cities

With the presence of the Head of Government
Friday 6 July

Venue: Complexe Mohammed VI

09:00

10:30

High-level Panel: The Potential of Intermediary Cities in the World Dynamic of Sustainability

10:30

11:00

Coffee Break

THEMATIC TABLES: The Value of Citizenship and Potential of Intermediary Cities

11:00

12:00

01 – The Intermediary City as 'Value Capture' and Citizens as Drivers of Economic Growth

The spirit of the 2030 Agenda aims for equal growth based on sustainable human development. It is crucial to consider new economic models that are closer to the realities of citizens, and their potential and talents.

 

12:00

13:00

02 – Building Consciousness: Citizenship as a Multiplier of SDG Implementation and Impact on the Climate Agenda

Intermediary cities face the loss of human capital and talent, which triggers the question of how to create opportunities for all inhabitants, while maintaining all positive attributes of life in intermediary cities.

TV Platform 01

UCLG Hub

THEMATIC TABLES: Intermediation at the Heart of the Sustainable Development of the Intermediary City

14:45

16:00

03 – Leveraging Intermediary Cities in the World: A Unique Potential for Global Sustainability and Territorial Justice

Intermediary cities have a unique chance to maximize the possibility of extending rights through the implementation of the global agendas: gender issues and youth promotion could find here the best opportunity to leverage basic services and basic urban rights into the framework of an urban democracy.

TV Platform 02

UCLG Hub

 

16:15

17:30

04 – The Culture of "Good Living" in Intermediary Cities: Economy, Liveability and a Responsible Way of Living

A strategy to put in place a culture of "good living" in all its components, also integrating the link with rural areas, to be strengthened as one of the major pillars for sustainability, is vital for intermediary cities.

TV Platform 03

UCLG Hub

17:30

18:45

05 – The Concept of Natural Resources as Heritage for Humanity

It is crucial to look after and preserve the quality of life of all urban and rural dwellers for the coming years and preserve our natural environment. How can we enable decision makers and inhabitants to take responsibility for this phenomenon?

 
Saturday 7 July – "Share & Learn" Events

See details of venues and languages below

 

Venue: Dar Chabab (Maison de la Jeunesse)

Venue: Maison des Retraités

Venue: Salle haute de conférence du Complexe Mohammed VI

Venue: Salle de réunion de la Province de Chefchaouen

08:30

10:00

Learning Workshop on Local Economic Development and Technical Visit in Chefchaouen

[French, Spanish]

Gender and Intermediary Cities

9:30-11:45

 

Towards Equitable and Sustainable Intermediary Cities: A Training Session for Local Government Representatives – Tool Presentation

[English, Arabic]

"Flagship" Presentations

 

09:00: Moroccan Experience in Handcraft Products and Tourism

[English, Arabic]

 

09:30: The Role of Intermediary Cities in World Urban Development

[English, French]

 

10:00: Strategizing the Implementation of the New Urban Agenda in the Arab States Region

[English, Arabic]

 

10:30: A Complete Experience of Implementation of the New Urban Agenda in a Country

[English, French]

 

11:00: Inclusive Urbanism: The Challenges of Training in Intermediary Cities

[French, Spanish]

10:15

11:45

Intermediary Cities Facing the Challenges of Implementing the Global Agendas

[English, French]

Participatory Budgeting in Intermediary Cities

[English, French, Arabic]

12:00

13:30

Vision 2030:

Definition of a Sustainable Future Vision for Chefchaouen

[English, Arabic]

Food Security: A Challenge Between Intermediary Cities and the Regions

[French, Arabic]

Community of Practice on Open Local and Regional Governments: Local Actions for Transparent and Sustainable Cities in the Middle East and Africa

[French, Spanish]

15:00

15:50

Expectations by Intermediary Cities Mayors

Venue: Complexe Mohamed VI

15:50

16:30

CLOSING CEREMONY

Reading of the Charter of the Intermediary Cities of the World

Venue: Complexe Mohamed VI

18:00

Visits

Departure point for visits will be the Hotel Parador